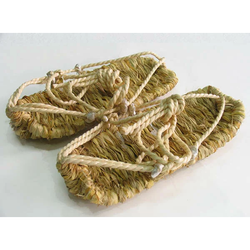 Samurai Store, Inc.
WARAJI Straw Sandals
Product#:

YGI03
WARAJI Straw Sandals
Produced by: Samurai Store, Inc. JAPAN
It may take about 1-2 weeks to finish.
International Shipping (DHL express) 
North America
JPY 5,100
 
Europe
JPY 5,100
Oceania
JPY 5,100
 
Asia
JPY 3,000
JAPAN
JPY 1200
Other Countries
To be estimated
Samurai Store Exclusive
One-size-fits-all 
Made of genuine straw and nylon thong. Choose your foot size to order. This sandales will go with any samurai armor to walk around. We recommend to order this socks with Tabi socks to wear samurai armor perfectly. 

A Closer Look at the Quality
We at Samurai Store, Inc. know that true Samurai fans could never be satisfied with the inferior, mass-produced armors that come out of many parts of the world. That is why we only offer authentic, life-sized, wearable Samurai armours and helmets that are 100% handcrafted in Japan by skilled craftsmen.100% Handcrafted in Japan by the world's preeminent Samurai Armor manufacturer. Each suit of armor is modeled after examples found in museums, private collections, temples, shrines, hidden storehouses of Samurai clans and other historical sources. All pieces are painstakingly handcrafted by experienced artisans, using authentic methods and materials.